Envision walking into your kitchen and feeling a rush of satisfaction as the scent of luxury fills the air. Sophisticated finishes, smart technology integrations, stellar design elements — all combined to create an epicurean haven that speaks your language. Sounds like a dream doesn't it? At Mosaic Luxe we work with you to discover ways to give your kitchen an opulent overhaul that not only looks spectacular but also caters to every gourmand's needs, wants, and culinary quests.
Our Luxury Kitchen Remodeling Service provides a range of services to upgrade and customize your kitchen, including custom cabinetry design and installation, high-end appliances and fixtures selection, countertop installation, flooring replacement, lighting design, and more. Our team of experienced professionals work one-on-one with you to ensure the finished product meets your unique style, preferences, and budget. We use only the highest quality materials and our attention to detail is unmatched in the industry.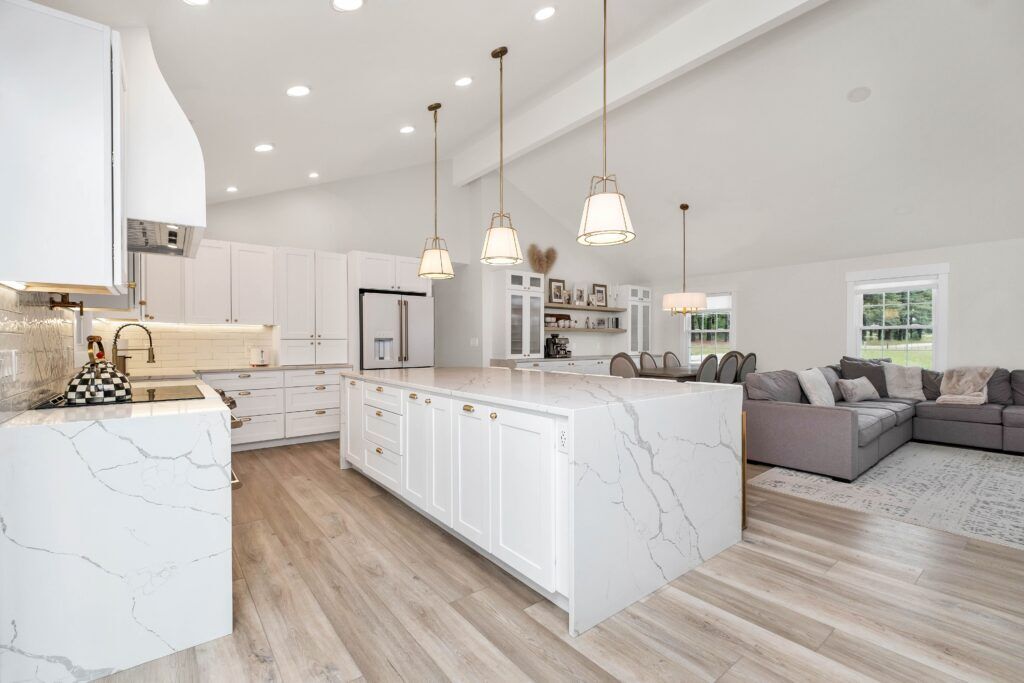 Designing Your Dream Kitchen
Designing your dream kitchen can be an exciting yet overwhelming experience. You want to have a space that looks amazing and functions perfectly for your needs.
First, think about the style you want for your kitchen. Are you going for a modern feel or do you lean more towards traditional designs? If you're lacking inspiration we will help you look for it in interior design magazines and social media platforms like Pinterest and Instagram. We help you curate images of kitchens that catch your eye and identify common elements they share, such as a color scheme or type of cabinet door.
Perfectly Planned Layouts
Next, consider the layout of your new kitchen. Think about traffic flow and how often you entertain guests. Do you need an open concept design to make sure everyone has enough room to move around, or is a smaller but more functional space better suited to your needs? Keep in mind the work triangle; the distance between your stove, sink, and fridge should be relatively short.

When it comes to choosing materials for your kitchen renovation, it's crucial to balance quality with a budget-friendly approach. Go for cabinets made of durable materials like hardwoods or laminates that will stand the test of time. Consider refacing instead of replacing existing cabinetry if it's still in good shape. This can be significantly more cost-effective than buying brand new ones.

Lastly, remember that hardware finishes such as knobs and handles can make just as much difference in your kitchen's overall look as the countertops and cabinets themselves. They are the finishing touch that ties everything together. Think of them as jewelry for your kitchen – they can enhance an outfit (or room) with just the right amount of sparkle.

By keeping these things in mind when designing your dream kitchen, you'll be able to create a space that's both functional and stylish.
According to HomeAdvisor, as of 2023, the average cost of a kitchen remodel in the United States ranges from $13,500 to $37,000.

Houzz's "2023 Kitchen Trends Study" shows that 43% of homeowners go over budget on their kitchen renovation.

The National Association of Realtors reports that full kitchen renovation projects often yield a 62% return on investment (when selling the property after renovations).
Designing your dream kitchen can be overwhelming, but choosing a style, considering the layout of the space, and balancing quality materials with a budget-friendly approach are essential. Don't forget that hardware such as knobs and handles can make a significant difference in your kitchen's overall look and feel. Keeping these things in mind will help you create a functional and stylish kitchen.
Assessing Your Current Space
Before you start your kitchen renovation, it's essential to assess your current kitchen thoroughly. This step includes a demolition phase where you must understand what is working for you and what needs to be changed.

Start by identifying any existing problems or inefficiencies in the current layout. Are there any obstacles to workflow, such as too much distance between appliances or not enough counter space? Experiencing these issues during daily usage can lead to frustration and even safety hazards.

Take note of all your current kitchen features that function well, such as appliances that are still in good shape and cabinets that have plenty of storage space. By acknowledging them now, you'll save money when renovating as you won't have to replace items unnecessarily.

It's crucial to evaluate how you use your kitchen space often. Most kitchens can be classified into work zones—areas designated for particular tasks, like food prep, cooking, baking, etc. Does your current kitchen work zone work for you, or do you find yourself having to travel back and forth from one end of the room to another repeatedly?

Proper assessment of your existing kitchen will help create a vision for the remodel, save money on unnecessary expenses and ensure that your new design meets all your needs while making everyday tasks more enjoyable.
Drawing Up a Dream Design

Designing your dream kitchen is an exciting yet daunting task. You may have loads of ideas and inspirations from sources such as Pinterest or Instagram, but you must know how to translate what you want into something that will work for you. Before diving in, it's important to assess your current space and lifestyle needs.

Consider the layout of your existing kitchen. Which areas do you love/hate? Do you find yourself frequently bumping into others while cooking? Or do you wish you had more counter space? We take careful note of these pain points and keep them in mind while drawing up your dream design.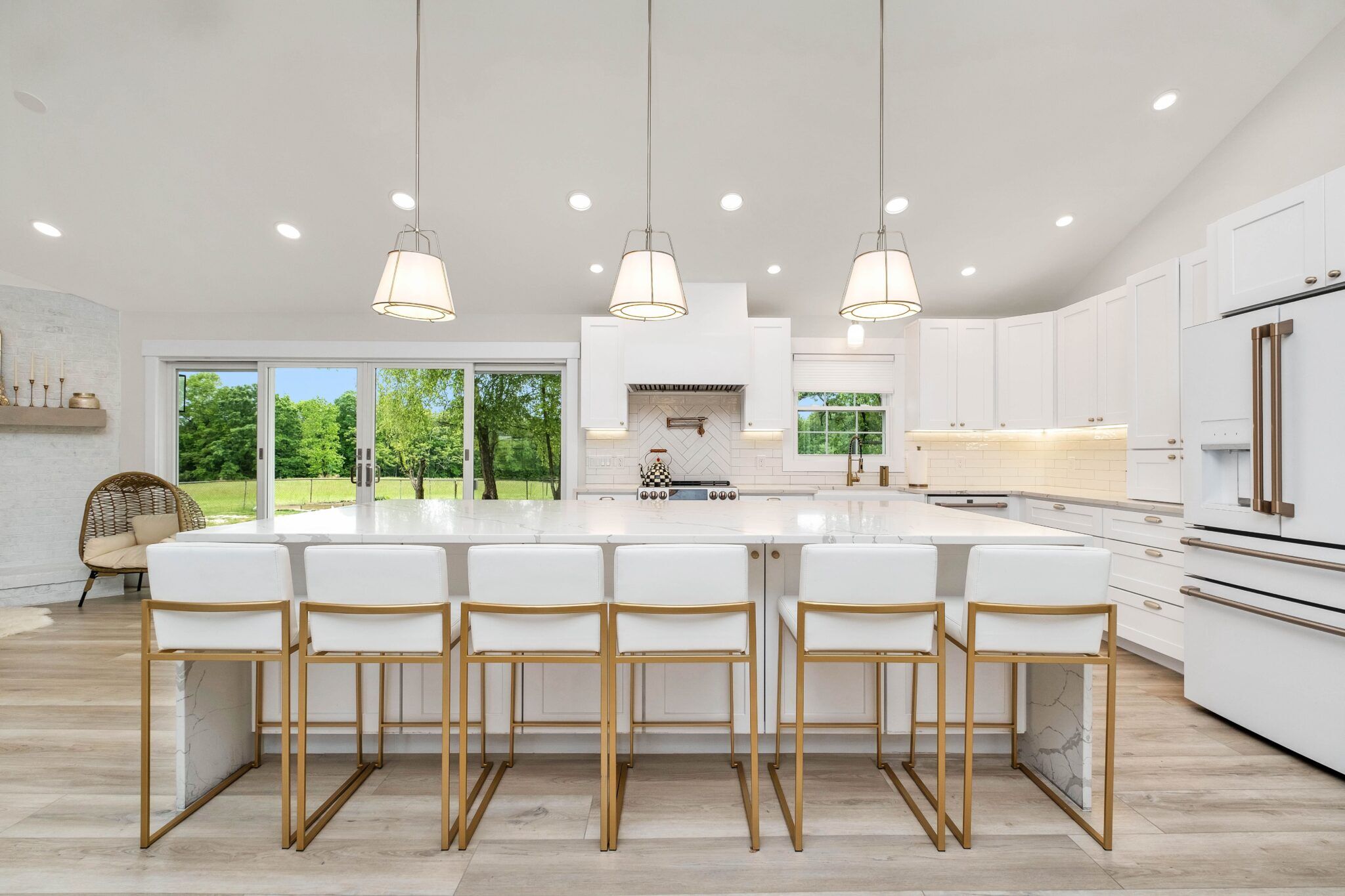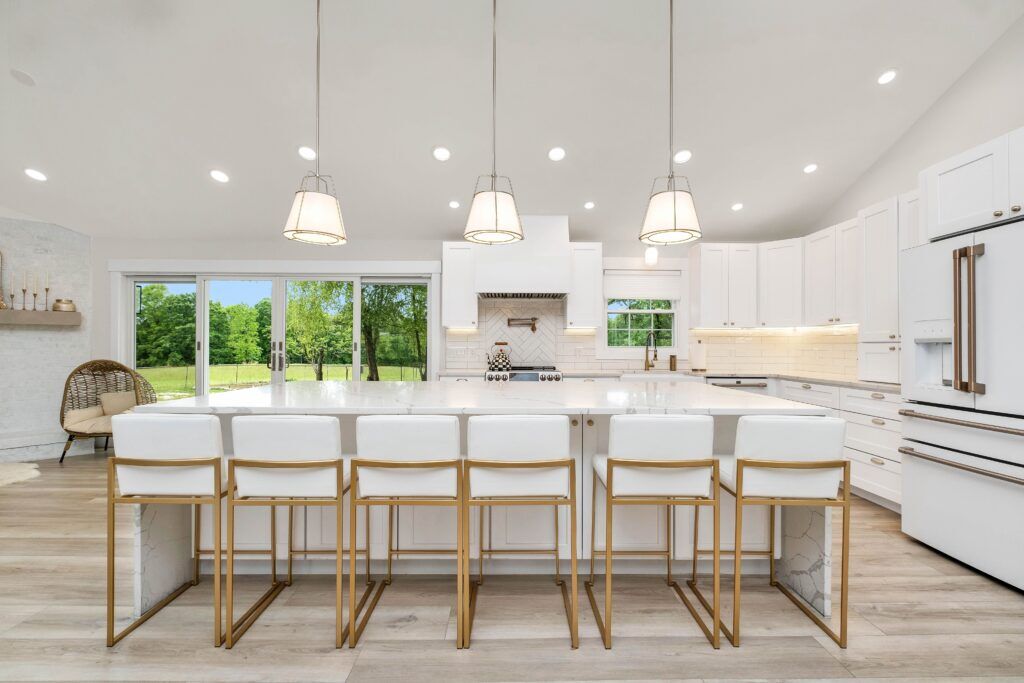 Keep functionality as the top priority. The triangle between the sink, stove, and fridge – should remain within easy reach. Depending on your lifestyle, consider allocating separate zones for food prep, storage, cooking, and cleanup.

Think of your ideal kitchen as a well-oiled machine. Each zone serves a specific purpose, with no wasted movements or inefficient use of space. If you enjoy hosting large dinner parties, go for an open-concept layout with ample seating to encourage conversation between guests and cooks.

However, don't get caught up too much in trends. While certain design elements look beautiful on Instagram or in magazines, they may not be practical or timeless choices for your lifestyle. Plus, trendy designs tend to lose their charm after several years.
Designed to Last
Instead, think about long-term functionality and durability. Stick with classic styles and neutral color schemes that won't age quickly or clash with future updates. Classic styles also make it easier for resale value if that is something you plan on doing down the line.

With all this in mind, it's time to start visualizing what your dream design will look like.
Choosing Quality Materials and Appliances
Choosing quality materials and appliances is a critical aspect of any kitchen renovation. After all, they are the backbone of your kitchen and play a significant role in its functionality. When it comes to selecting materials and appliances, there are several factors to consider.

Balancing budget and quality is crucial at Mosaic Luxe. We don't have to break the bank to achieve a beautiful, functional kitchen, but prioritizing quality can prevent future headaches such as frequent repairs or replacements.

Energy Efficiency in Luxury Appliances
One area where you should splurge is on appliances. These tools get daily use and are essential for food preparation and storage. Consider investing in energy-efficient models that will save money on utility bills in the long run.

Think of your appliances as an investment. If you opt for cheap models because they fit better within your budget, you may end up paying more down the line for constant repair or replacements.
Custom Built Cabinetry
That being said, there are still ways to save money without compromising quality. For instance, cabinets can be expensive, but going with stock cabinetry instead of custom-built ones can significantly cut costs while still offering flexibility in design.
Countertops and Flooring for the Future
When shopping for materials such as countertops or flooring, do some research on various types of material – granite vs. quartz vs. laminate – and determine which option will best suit your lifestyle needs. For instance, granite may look stunning but requires periodic sealing and maintenance.

Ultimately, choose materials and appliances that not only align with your budget but also fit within your overall design scheme. Research thoroughly before making any decisions."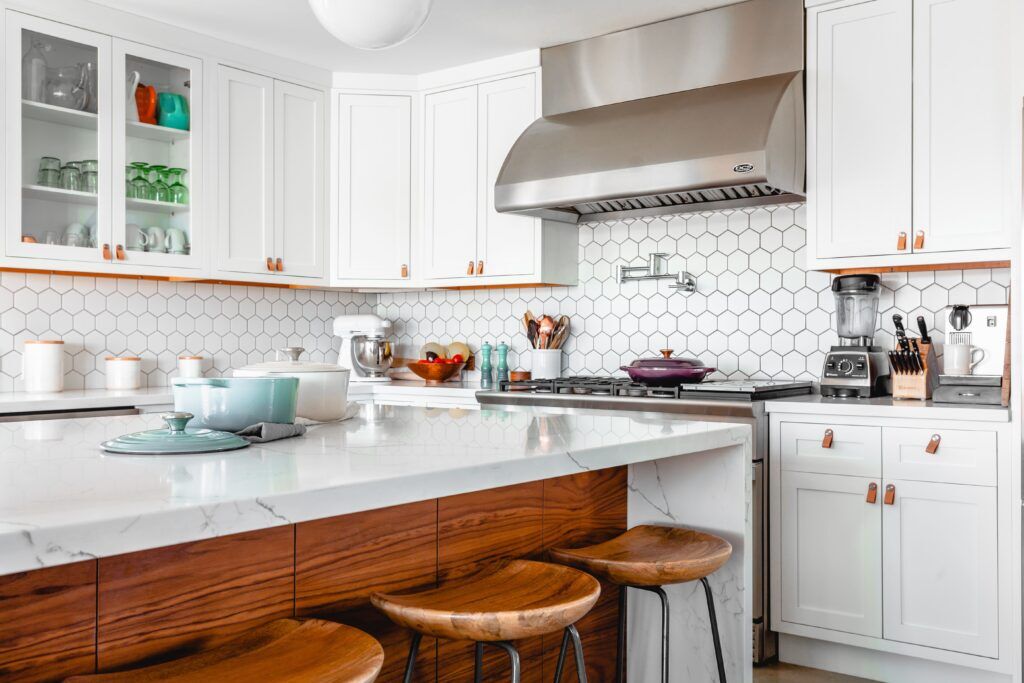 Balancing Budget and Quality
When it comes to kitchen remodeling, the biggest concern for most homeowners is staying within their budget without sacrificing quality. While it may be tempting to cut corners or opt for cheaper materials, doing so can result in shoddy workmanship and an overall lackluster finished product.

One way to balance your budget and quality is to prioritize the areas that are most important to you. Maybe you're an avid cook who needs top-of-the-line appliances, or perhaps you want luxurious marble countertops. Whatever your priorities are, we allocate the biggest portion of your budget towards those items while finding more affordable alternatives for other areas.

For example, if having a large island is crucial to your kitchen design, we can explore savings on items such as hardware or cabinet finishes instead. This will allow you to get the key elements that matter to you most while still keeping within budget.
Part of our service includes shopping for the best deals on high-end materials. We leverage all our buying power and trade discounts to save you money without compromising on quality.

Additionally, it's important to remember that investing in high-quality materials can actually save you money in the long run. Durable materials such as granite countertops and hardwood flooring may be pricier upfront but will last longer than cheaper alternatives and require less frequent replacements or repairs.

Ultimately, it comes down to personal preference and priorities with your remodel – some homeowners may prefer to go all out on one specific area while others would rather spread their budget across various aspects of kitchen remodeling.
Cost Estimates for Boca Raton Kitchen Remodeling
A major consideration when planning a kitchen remodel in Boca Raton is the overall cost of the project. One important factor is the size of the kitchen. A smaller kitchen will generally be less expensive to remodel than a larger kitchen due to fewer materials and labor being required.
Additionally, keep in mind that any changes to the layout or structure of the kitchen will add to the overall cost.

The specific materials and finishes you choose for your remodel will also have a significant impact on cost. High-end materials such as marble or custom cabinetry will be more expensive than basic laminate countertops or pre-fabricated cabinets.

To get a better idea of what materials will fit within your budget, create a list of must-haves and nice-to-haves. Focus on splurging on items that can't easily be changed later on, such as cabinetry or flooring, while opting for more affordable finishes like paint or hardware.

Once you have a general idea of the materials and scope of work involved in your remodel, it's time to get estimates from professionals. Be sure to shop around and compare quotes from multiple contractors to ensure you're getting a fair price for your project.
Understanding Installation and Material Costs
One of the most important aspects of kitchen remodeling is understanding installation and material costs.Consulting with our Principal Interior designer, Stacey Cohen will provide valuable insights into your existing kitchen layout and can give you ideas on how to make the most out of your space.
She makes sure everyone involved in the design process is on the same page regarding your budget. Now that we've covered material and installation costs let's move on to stylish finishing touches that bring your dream kitchen to life.
Stylish Finishing Touches
Once we've laid the foundation for your dream kitchen by choosing high-quality materials that fit within your budget, it's time to consider adding stylish finishing touches that bring everything together. These artistic details add personality and character to any kitchen design.

From selecting colors that complement each other to choosing modern fixtures that optimize your space, the possibilities are endless. Additionally, we help you plan the placement of light fittings and fixtures to create a profound impact on the overall ambiance of your kitchen.
One popular solution is installing cabinetry lighting under or above your cabinets. This brightens up dark countertops and opens up the space to give the illusion of more room. Swapping old fluorescent bulbs with LED lights is also a great idea as they last longer, consume less energy and emit minimal heat.

Since there are so many options when it comes to styling touches, we don't like to get wrapped up in trends alone. It's important to choose designs that work for you and reflect your personal aesthetic. Keep in mind that finishes like brass may be popular now but trendy touches can date a space so we recommend opting for timeless pieces instead.

Style is like fashion – it's constantly evolving. Don't feel too pressured by trends, stick with what you know you love and what will work best in your new kitchen.

Focusing on these details will ensure that you end up with a stunning and functional kitchen design that suits your taste while adding significant value to your home.
Selecting Colors and Fixtures
Choosing the right colors and fixtures for your kitchen remodel is a crucial decision that helps define the space's overall style. The color scheme that you select should depend on the mood or atmosphere you want to create, which could range from warm and inviting to cool and sophisticated.

When selecting colors, consider not only what matches your current decor but also what reflects your personality. You might instead opt for bold or trendy colors that can add fun accents to the room while still complementing your current kitchen design. Tones like red, navy blue, and even black can be used to bring life into the room or create an elegant look.

Fixtures are also essential elements of style in any kitchen. For instance, choosing faucets with a modern aesthetic influence can add delicacy to a sleek design and contrast to rustic décor. Knobs and pulls on cabinets should be functional yet appealing, too.

Additionally, appliances should be factored into decisions surrounding kitchen finishes – such as stoves, refrigerators, dishwashers, ovens, etc. The color of these big-ticket items should look good with the rest of the color scheme you ultimately choose.

Furthermore, another way fixtures can be used effectively is by incorporating vintage styles in contemporary kitchens; brass or brushed nickel hardware are timeless materials that have been growing increasingly popular in recent years. These fixtures give modern spaces an old-school feel while still meshing well with contemporary features. Copper has also gained popularity for its rustic feel as well as titanium-coated coatings that bring uniquely vibrant metallic hues to kitchens.

Selecting colors and fixtures is like picking out the accessories of an outfit. A bold statement with a vibrant necklace or hoop earrings can provide pops of personality to a sleek, all-black dress, just as copper-colored fixtures can add warmth to a modern kitchen's industrial style.
The Role of Lighting and Fittings
The right lighting elements have the power to transform any space in subtle or dramatic ways – and kitchens are no exception. Fittings like cabinets, countertops, sinks, and backsplashes are important details but must complement adequate kitchen lighting choices.

Proper lighting is essential for enhancing aesthetics, creating ambience throughout the kitchen space. These illumination choices can showcase chosen elements, including appliances, dining areas, focal points over islands or peninsulas, etc. at night-time while also providing much-needed task lighting during food prep work or other culinary tasks.

When considering types of lighting, consider track lighting over focal points or pendant lights over unique showpieces. Materials like brass and gold embellishments coordinate nicely with elegant lighting fixtures such as chandeliers or sconces.

In addition to decoration considerations, different kinds of bulbs will bring their distinctive brightness to spaces. Soft-white bulbs offer yesteryear warmth and inviting character paired with warmer metals (like aged bronze). Energy-efficient LED options have grown more popular too and they may complement more utilitarian kitchens with their metallic coolness appeal.

Task lighting
Task lighting is another thing worth consideration when planning your kitchen renovation project because it often requires separate circuits. For instance, specialized under-cabinet LED strips can serve as task lights for preparation areas while overall mood setting can handle ambient light conditions where overhead recessed cans come into play.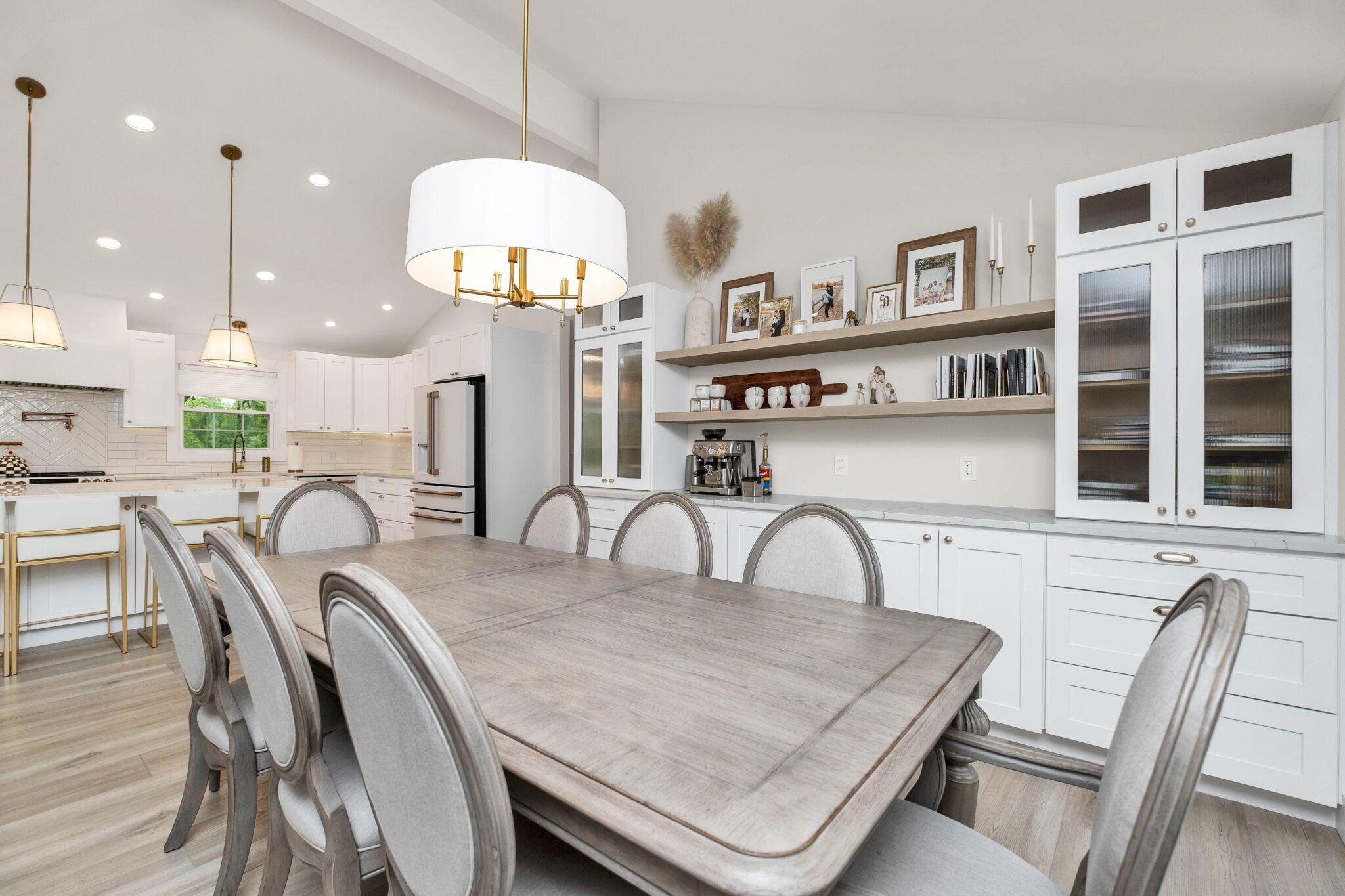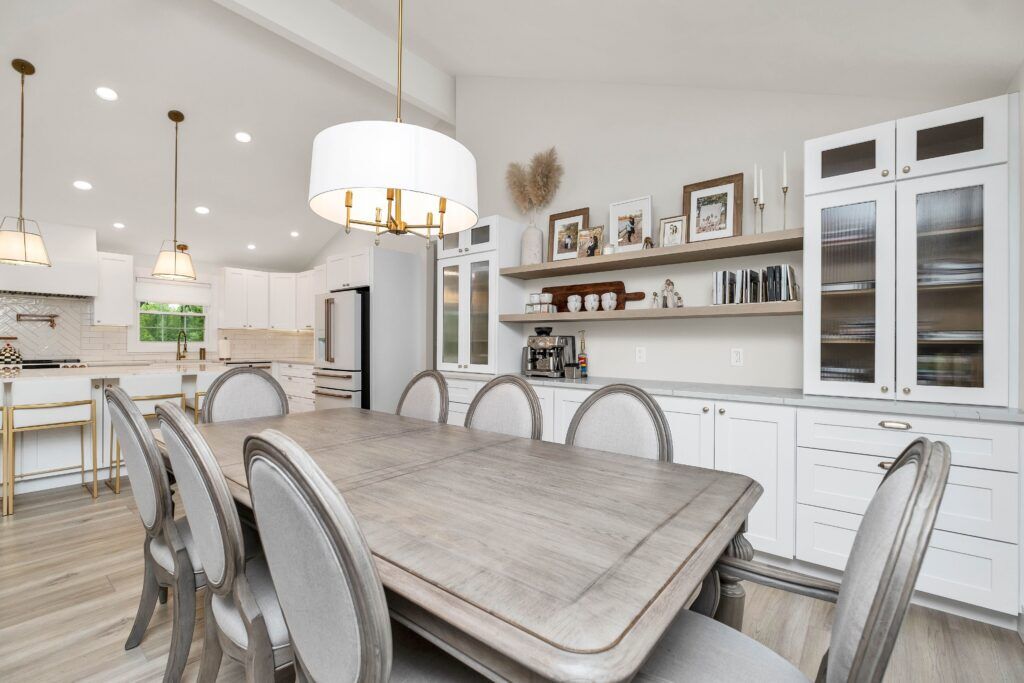 Natural light
Natural light should also be factored into lighting plans. Inclusion of more windows and skylights can be a stunning antidote to a cramped space as well provide down-to-earth vibes for those that cook frequently.

Lights and fittings are equivalent to the accessories and makeup in fashion! While a great pair of earrings or perfect winged eyeliner can make any outfit look better, lighting should highlight important areas of your kitchen such as display cabinets or countertop workspaces creating spectacular focal points.

With this information provided on the impact of proper lighting and fitting choices, we hope you're inspired to take the next steps towards planning your dream kitchen remodel.
Book a complimentary consult with Stacey today
We can't wait to learn more about you and your next interior design project